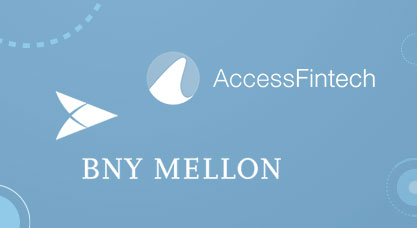 AccessFintech Expands Alliance with BNY Mellon to Transform Loan Data Management and Operations
BNY Mellon will be first trustee to join AccessFintech's data management platform
21 June 2023: AccessFintech, the pioneering provider of data collaboration and workflow automation solutions, announced a new expansion of its alliance with BNY Mellon, focused on digitisation and transforming loan data management and operations in the financial industry. In addition, BNY Mellon will be first trustee to join AccessFintech's data management platform.
The new collaboration addresses the challenges associated with manual processing and reconciliation of loan data, streamlining operations and enhancing data accuracy for financial institutions. It also tackles historical issues in loan market operations, which have lagged behind equities and fixed income markets in their practices, including pdf, fax, and email workflows related to trade lifecycle events.
Through digitising the loan lifecycle, the collaboration will automate current manual processes and is designed to increase operational efficiency and resilience, reduce risk, enhance regulatory compliance, and improve decision-making capabilities for financial institutions. In addition, by harnessing AccessFintech's cutting-edge data aggregation and automation technologies, BNY Mellon will significantly enhance its loan data management capabilities.
James Slater, CEO of Corporate Trust, BNY Mellon, said: "Today's announcement is an important milestone in our commitment to transform loan data management and placing our clients' needs at the forefront. By integrating AccessFintech's advanced technologies with our comprehensive services, we are embarking on a journey that will unlock fresh opportunities, stimulate innovation and deliver outstanding value to our clients."
Roy Saadon, CEO of AccessFintech, said: "We are delighted to collaborate with BNY Mellon, a global leader in the financial services industry and an innovation leader in bringing the best capabilities to its clients. Our loan data aggregation platform, combined with BNY Mellon's extensive expertise, will transform the loan industry, offering financial institutions unparalleled efficiency and accuracy. We look forward to driving positive change together and helping our clients navigate the complexities of loan data."
In 2022, AccessFintech became a BNY Mellon portfolio company through its Series C funding round.